Other Stuff
Material Available in other languages than English
Material is being translated all the time and it is not possible for this site to have a complete listing of this. As and when I am aware of sites hosting such material, I will include it here. I also have links to material in other languages that is hosted on this site and is listed lower down the page.
Links to material held on this site in languages other than English:
German translations available: 
And some French translations:
Spanish
The only Spanish translation I am aware of is Volume 1 of True Gospel Revealed Anew by Jesus and is not hosted here, but at The Foundation Church of Divine Truth web site. I have also this information anout a copy on Amazon:
---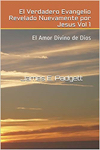 El Verdadero Evangelio Revelado Nuevamente por Jesus Vol 1
A Spanish translation of True Gospel Revealed Anew by Jesus Volume 1 has been completed by Geraldine Cousins and can be purchased at Amazon in print and as a Kindle.