Spiritual Books
Free Ebooks
I am offering here some books in an ebook format, epub. So why am I offering them? Because it is debatable they should be subject to copyright. Why I say these should not be copyright, is because they are actually the words of a deceased person - a spirit. And you cannot attribute copyright to someone who no longer is living at the time the book is created. So the so called "author" - the human who took down the words of the spirit, has called themselves the author or in the case of Anthony Borgia generally the "recorder", although they are really simply the publisher and editor. And publishers have copyright in the format, not the content. In fact there is a basis for my making this claim, as others in trying to hold onto their copyright have discovered you cannot maintain that you have published the words of a discarnate person (a spirit) and hold copyright as an author. You have to insist it is the work of a living human.
Finally, using an independent medium, I have obtained permission to offer these books here from Jeanne Walker, Anthony Borgia, and Robert Hugh Benson.
As some readers may not know how to open these formats, I will now offer some advice on that epub can be read on a number of platforms and applications. ePub is the Apple Mac standard format so it can be read on iPhone, iPad, Ipad-Mini, Ipod-Touch and all Mac computers. It is easily converted to other formats by using the Windows based Calibre software. If you own a Mac then simply opening an epub book once will normally cause it to copy automatically onto your i-device the next time you connect it for syncing.
Web browsers such as Firefox, and Chrome as well as Calibre under Windows will read or convert ePub. The browsers will require an additional module to be installed. There are also apps for Android.
The format "epub" is as a result becoming a default that is much better than pdf.
---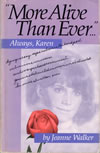 More Alive Than Ever……Always Karen by Jeanne Walker
The original book was republished under the title "More Alive Than Ever… Always, Karen" in 1995. These copies can be many hundreds of dollars second hand as this newer edition is also out of print. Jeanne Walker passed away in 2012 and I have not had any response from the individual who I believe inherited the copyright. In fact I dont even know their name or email address, as I understand they want to keep a low profile. However, they did not respond to my request to discuss making an ebook available. Here is a free epub version: More_Alive_Than_Ever.epub
---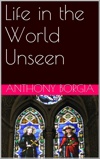 Life in the World Unseen by Anthony Borgia. (1954)
The topics include passing over, the magnificence of the spheres, how they move around, eating fruits, their cities and buildings. How buildings are constructed, hospitals and children. A number of topics are better covered here than anywhere else I have found, including the issue of garments, movement, and even boating. Yes boating. For those of us who like boating! This is the most popular of the six books. This book is currently out of print.
Here is an epub file: Life in the World Unseen epub
I have created a pdf and offer it here : Life in the World Unseen pdf
---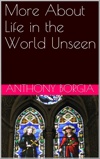 More about Life in the World Unseen by Anthony Borgia. (1956)
This is a continuation of the book "Life in the World Unseen". It is again an interesting book, particularly if you are pretty fanatical about wanting to know what happens after death. However compared with the first book, it should be said that there is a lot of repetition. There is an interesting discussion about the role, and the limitations placed on churches in the next realm.
Here is a free epub file: More about Life in the World Unseen.epub
Here is a free pdf file: More about Life in the World Unseen pdf
---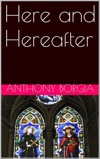 Here and Hereafter. by Anthony Borgia. (1945)
This was actually first published under the original title "ABC of Life" in 1945, making one of the oldest of the Borgia books as far as I know. It was later republished with a different title in 1959. (The pdf below claims 1957, but that is not supported by my research.) It is again an interesting book, covering the initial phase of arrival, then later on how they live, and how they communicate.
Here is a free epub file: Here and Hereafter.epub
Here is a free pdf: Here and Hereafter pdf
---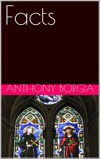 Facts by Antony Borgia. (1946)
In this book the Monsignor tackles religious subjects, which he obviously deliberately avoided in other compilations. He talks about prayer, various sacraments such as baptism and the vicarious atonement and notions of judgment, justice and mercy.
Here is a free epub file: Facts.epub Here is a pdf file: Facts PDF
---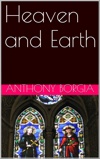 Heaven and Earth by Antony Borgia. (1948)
The chapter headings in this book are: My Home, Past, Present and Future, Colour, Beauty, Service, Christian Unity and Peace on Earth.
Here is a free epub: Heaven and Earth epub
And here is a free pdf: Heaven and Earth pdf
---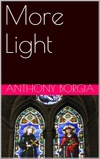 More Light by Antony Borgia. (1947)
This book covers Orthodoxy, Miracles, Burials, Creeds, and the "average person". It is a continuation of religious topics started in "Facts" and the Monsignor totally demolishes Orthodox Christianity.
Here is a free epub: More Light epub.
Here is a free pdf: More Light pdf.
---

ABC of Life by Antony Borgia. (1945)
This was the third book of conversations with Monsignor Robert Hugh Benson published by Anthony Borgia. It was published only once, in 1945. However the content was reused in a later publcation - namely Here and Hereafter.
So I offer this book more by way of completeness, as it may be more productive to obtain the later book which has more content than this book.
Here is a free epub: ABC of Life epub.
I offer the pdf here : ABC of Life.